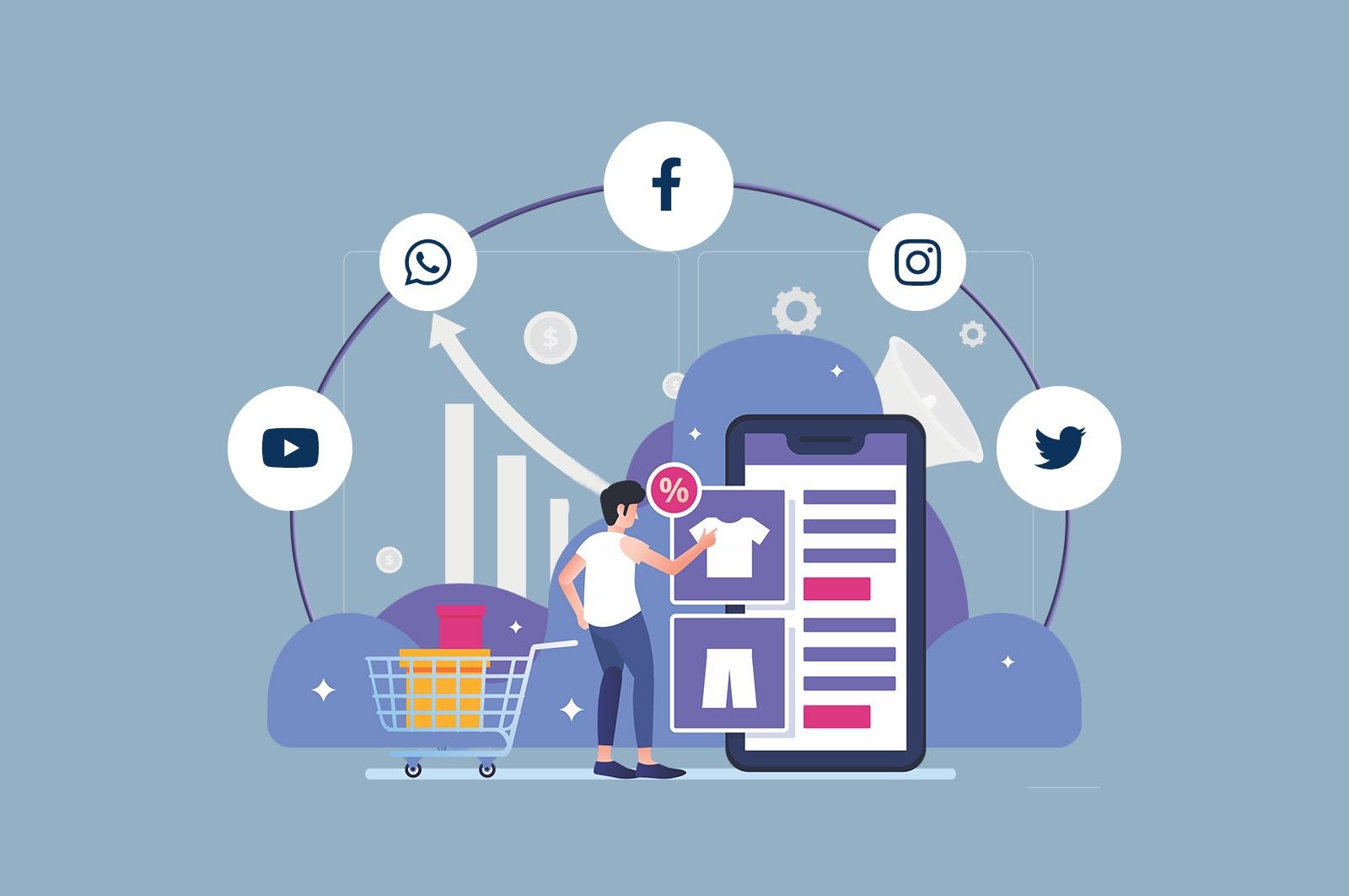 As the digital age continues to evolve, e-commerce companies find new and creative ways to get their brands into the public eye. Social media marketing is a powerful tool for businesses looking to grow their customer base, increase sales, and cultivate meaningful relationships with potential buyers. From Instagram influencers to Facebook campaigns, companies leverage the active user bases of platforms like these to create an effective and engaging connection between their products or services and consumers.
Here are some stats:
In 2019-2020, the top brands on social media worldwide had a 67% social rank.
In 2020, U.S. users had the most interactions with brand content on social media, with 67% of interactions occurring on Instagram.
Only 12% of e-commerce companies planned to introduce direct sales through social media in October 2020.
The worldwide revenue of social commerce is valued at 724 billion U.S. dollars in 2022 and is forecasted to continue to grow in popularity.
In 2022, e-commerce sales are estimated to reach 20.8% of retail sales worldwide, with at least 28% of the worldwide population shopping online to fulfill their needs.
Social media is an effective channel for generating buzz, promoting new products, and engaging with target audiences.
The value of social commerce is expected to double from $492 billion in 2021 to $1.2 trillion in 2025, growing at a rate three times faster than that of conventional e-commerce.
In 2023, sales via social media platforms worldwide are estimated to add up to $1.298 billion.
Almost 40% of users follow their favorite brands on social media, and 1 in 4 users follow brands they might purchase from.
These statistics suggest that social media plays a crucial role in the marketing strategies of e-commerce SEO companies. With the increasing popularity of social commerce, e-commerce companies are likely to continue investing in social media marketing to engage with their customers and increase their brand awareness.
It's a strategy that has already proven successful for some of today's biggest e-commerce companies, giving them access to unprecedented reach and engagement with worldwide audiences. So, how can your business take advantage of this marketing opportunity? Let's explore how e-commerce companies use social media for marketing their brands and building customer relationships.
Utilizing paid social media advertising
Paid advertising on social media allows e-commerce companies to reach a wider audience and precisely target potential customers. Companies can create ads tailored to specific demographics, interests, and even locations, allowing them to get the most out of their marketing budget. Additionally, they gain access to valuable performance analytics that can measure the success of campaigns and help inform future decisions. By leveraging paid advertising, e-commerce companies can maximize brand visibility, increase website traffic, and boost sales.
Creating engaging and shareable content
Social media is about engaging and shareable content; e-commerce companies must exploit this. Companies should create appealing posts that attract potential customers, such as videos, pictures, articles, gifs, and more. They should also produce content that encourages followers to interact with it, like commenting or sharing. Creating contests and giveaways can also fuel engagement and positively affect brand awareness. Through creative content and increased engagement, e-commerce companies can establish an effective presence on social media.
Partnering with social media influencers
E-commerce companies can capitalize on the power of the influencer economy by partnering with social media influencers to market their brands. Influencers have a loyal following, credibility and influence that e-commerce companies can tap into to reach a larger audience and increase brand awareness. By working with an influencer, brands can create entertaining and informative content, resonating with the target audience uniquely. Additionally, influencers will often share products with their followers who could become paying customers.
Leveraging user-generated content
E-commerce companies have long leveraged user-generated content (UGC) for promotion and marketing. UGC campaigns can provide customer feedback as they talk about their experiences with the product or service in question, and these reviews help build credibility and trust. UGC can also act as an endorsement for the product, which can drive up sales. By using UGC, e-commerce companies can create genuine relationships with their customers by showing off what real people have to say about their products and services.
Offering exclusive promotions to social media followers
E-commerce companies understand the power of social media to connect with their customers and build loyalty, which is why they often offer exclusive promotions to their followers on various platforms. This encourages those who follow them to stay engaged while incentivizing others to join the conversation. Promotions could range from discounts and giveaways to special rewards programs. By offering something unique and valuable to their social media followers, e-commerce companies foster customer loyalty and encourage more people to engage with their brand and make a purchase.
Engaging with customers through social media customer service
E-Commerce brands leverage social media as a customer service tool to provide personalized customer assistance. The best e-commerce SEO agency builds customer relationships through direct messaging, responding promptly to inquiries, requests, complaints, and feedback. Prompt resolution of customer service issues increases customer satisfaction and builds loyalty. Social media customer service helps e-commerce companies create a more positive customer experience and can significantly improve brand perception.
Conducting social media contests and giveaways.
Not only can contests create a buzz of excitement around the brand and generate a lot of engagement, but they can also give customers a sense of ownership. By inviting them to participate, companies can build loyalty and keep people returning for more.

When structuring a contest, e-Commerce businesses should ensure the prize is desirable and relevant to their brand. Additionally, each entry should require some action or engagement from the participant, such as liking a post, sharing content, writing a review, or creating original content. Regardless of your prize or requirements, include clear instructions on entering so that participants know exactly what to do.
What do you need to know?
In conclusion, e-commerce companies have recognized the importance of social media as a powerful marketing tool. They have adopted various strategies to effectively market their brands on social media platforms like Facebook, Instagram, and Twitter. Paid social media advertising, creating engaging content, partnering with influencers, leveraging user-generated content, offering exclusive promotions, engaging with customers, and conducting social media contests are among the top tactics that e-commerce companies use to promote their brands on social media.
With the ever-growing user base of social media platforms, e-commerce companies need to have a strong presence to remain competitive in the market and engage with their target audience effectively.