What Is Influencer Marketing?
Influencer marketing may be a good way to go if you are considering using social media as one of the channels for your future campaign. What is influencer marketing? This term describes businesses working with people with many social media followers to promote their products and services.

Social media is a platform used daily by hundreds of millions of people. Since people trust those they follow, businesses can think of reaching out to influential people on social media with real followers. By working with the influencers, you will likely get more people using your products or services, which could improve your conversion rate.

You need a strong strategic positioning to ensure your influencer marketing campaigns are effective. However, before crowding into developing a strong social media like Instagram influencer or Twitter influencer marketing strategy, let's go through some basics, like what it is, how it works, and whether your organization needs one.
How and Why Influencer Marketing Works
Influencer marketing has become a popular marketing technique that leverages the power of social media influencers. Influencers are individuals who have built large, highly engaged followings around their niche or area of expertise. Brands partner with relevant influencers to promote products and services to the influencer's existing audience. 
This works because followers trust recommendations from influencers they follow and engage with regularly. When an influencer authentically endorses a product, their endorsement carries weight with their followers. Influencer marketing helps brands increase awareness, credibility, and sales by tapping into the influencer's reputation and reach. 
Brands can access influencer marketing services to help identify relevant influencers, manage campaigns and partnerships, and track performance. Done right, influencer marketing effectively borrows the influencer's credibility to connect brands with target demographics. Authenticity is key – the brand and influencer must be a naturally aligned fit.
There are several tiers of influencers that brands can leverage:
Mega-Influencers
This group of influencers has more than 1 million followers. They would likely be personalities, opinion leaders, or high-profile persons with popular support. Mega-influencers can drive high brand awareness and visibility, given their wide reach. Yet, their engagement rates could be lower and the charges are high.
Macro-Influencers
Macro-influencers typically have 100,000-1M followers. Most of them have specialization in a given industry or niche. Macro-influencers effectively elevate brand credibility and will result in conversions because they possess a highly focused, active audience.
Micro-Influencers
Micro-influencers each have followers of below 100,000. They may not have a viable audience with reach, but they are practical in terms of engagement and connection with the niche. They are usually micro-influencers who happen to be professionals in their domain and provide content promotion and assistance with conversion.
Nano-Influencers
Nano-influencers have followers that number below 10,000. Niche brands are ideal for their small but targeted audiences. On one hand, it can be argued the content production quality of nano-influencers may be lower; but authenticity is their added value.
Benefits of Influencer Marketing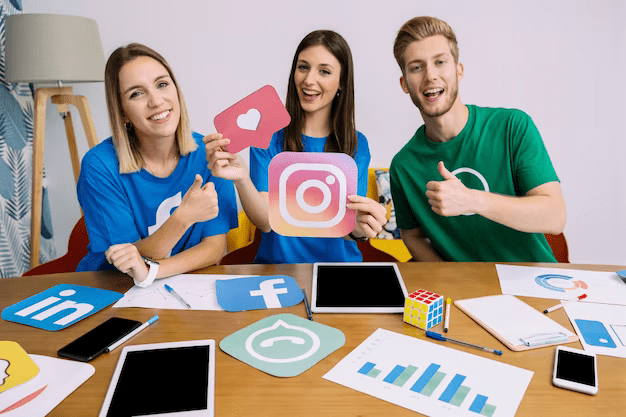 Influencer marketing provides several advantages over traditional marketing methods:
Increased Trust and Credibility – Influencers are seen as trusted sources, so audiences are more receptive to their recommendations over direct brand marketing.
Improved Brand Awareness – Influencers have the reach brands crave and can introduce your brand to new, targeted audiences.
Higher Conversion Rates – Followers rely on influencer opinions and are likelier to purchase products they endorse.
More Authentic Promotion – Audiences value genuine recommendations over blatant ads. Influencer content feels more organic.
Expanded Content Reach and Distribution – Influencers create unique brand content that gets distributed to their followers, increasing your content's scope.
Cost-Effective – Influencer marketing is relatively affordable compared to other approaches like celebrity endorsements or paid media.
However, an influencer marketing company specializes in running influencer campaigns. They identify relevant influencers, negotiate partnerships, and manage the creative and logistical details. Influencer marketing companies allow brands to outsource the process while benefiting from their expertise and connections.
How to Create an Influencer Marketing Strategy
Here is a simple 5-step process to start planning successful influencer marketing campaigns:
Set Goals and KPIs
Define your objectives and ways to benchmark success. Do you want to increase awareness? Engagement? Sales? Determine key performance indicators like impressions, clicks, and conversions so you can track progress.
Identify Target Audiences
Be specific about your ideal customer's demographics, interests, and values. This will inform the types of influencers that will resonate most.
Find Relevant Influencers
Use tools to discover influencers who create content around your niche and align with your target audience. Vet them thoroughly based on engagement, credibility, and production quality.
Manage Campaigns and Partnerships
Outline campaign details and guidelines and formalize partnerships through contracts. Facilitate sending products, posting content, tracking links, etc.
Analyze and Optimize
Collect detailed analytics on performance and engagement. Determine what content, influencers, and strategies performed best to refine your ongoing efforts.
An influencer strategy takes careful planning and research but is worth the effort. Maintaining organized processes and communications will ensure execution goes smoothly. Measure everything to maximize your ROI.
Influencer marketing company in Delhi tailors influencer campaigns to the Indian market. They understand the cultural nuances and have relationships with local influencers. An influencer marketing company in Delhi can design region-specific campaigns and measure success in that demographic.
Mistakes to Avoid with Influencer Marketing
It's easy to make missteps with influencer marketing. Here are some common mistakes to avoid:
Choosing the Wrong Influencers – Ensure influencers resonate with your target audience and brand before partnering.
Not Providing Value to Influencers – Communicate what's in it for them. Give perks and early access to products and experiences.
Lack of Strategy – Have a plan for activations and goals. Don't just blindly pay influencers without a purpose.
Scripted or Forced Content – Overly prescribed content feels inauthentic to followers. Let influencers create freely.
Limited Content Distribution – Don't put all your eggs in the influencer basket. Repurpose content across other brand channels.
Lack of Tracking – Use tools to track engagement, conversions, and ROI driven by influencer content.
No Ongoing Relationship – Don't end communications after a campaign concludes. Nurture long-term partnerships.
Unrealistic Expectations – Remember, influencer marketing complements other marketing. It's not a silver bullet.
Nevertheless, an influencer marketing company in India operates influencer campaigns targeted at the Indian consumer landscape. They leverage platforms and influencers popular in India to help brands locally. An influencer company in India is well-versed in Indian languages, cultural trends, and regulations.
The Future of Influencer Marketing
Influencer marketing is still evolving and is expected to grow. Here are some upcoming trends:
Micro and nano influencers will continue to gain traction for their authenticity and high engagement.
As video consumption rises, more focus is on IGTV, Reels, and long-form video content.
Increasing use of user-generated content from customers and fans through campaigns like #hashtags and contests.
Stricter Federal Trade Commission regulations on disclosure of paid partnerships.
The continued rise of virtual influencers using CGI and animation rather than real people.
Influencer marketing can deliver big wins when executed strategically. By leveraging influencers, brands can effectively reach and resonate with clearly defined target audiences. Remember to choose relevant influencers, build genuine partnerships, distribute content widely, track analytics, and avoid common mistakes. Approach influencer marketing as an impactful piece of the marketing mix rather than a standalone solution.