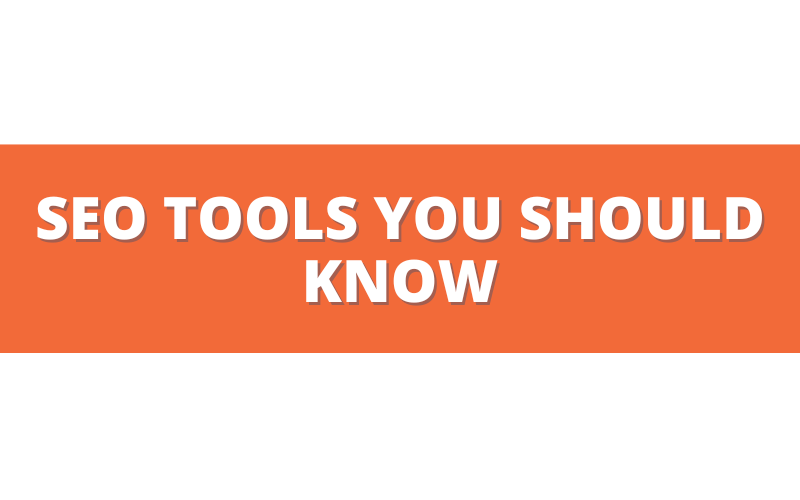 The search engine is the process of orienting your website to rank higher on a search engine result page (SERP) so that you can receive more traffic. It boosts your credibility and maximizes PPC campaign. But mastering SEO can be hard, especially if you are just starting out. SEO tools benefit us as:
SEO tools provide data and alerts about the overall success of your website.
With these tools, you are able to see whether your strategy is working or not and which part of your strategy could benefit from some changing.
These tools also provide reports about the competitors and where the greatest opportunity lies.
Moreover, if you use more than one website, SEO tools help you assess each site's performance.
Some of the best SEO tools are:
Ahrefs
Ahrefs is the most recommended SEO tool online. It is being the largest website crawler after Google. It is used to analyze a website's link profile, keyword rankings, and SEO health. This tool highlights which part of your website needs to be improved to rank better in search engines. You can also use Ahrefs to determine your competitor's backlinks to use them as a starting point for your own brand.
Ahrefs is the best tool for keyword research, finding link-building opportunities, and backlink checking. Its report generation is faster than other competitive tools.
Google search console
Google Search Console is a free service offered by Google that helps you monitor, maintain, and troubleshoot your website's presence on the Google Search result page. You don't have to sign up for Search Console to be included in Google Search results, but Search Console helps you to understand and improve how Google sees your site. You only need to do is verify your website by adding a code to your website or going through Google Analytics and you can submit your sitemap for indexing. It allows you to optimize for better performance in Google search results. It is very useful especially if your website is new as it lets site owners submit web pages for search indexing.
SEMRush:
SEMRush is an SEO tool that tracks the keyword strategy your competition uses by doing keyword research running an SEO audit of your blog, looking for backlinking opportunities and lots more. It is used by a number of businesses, whether it is big or small. This is one of the best SEO audit tools on the market because of its ease of use and scoring system.
So, the very first step you should really take is to perform an audit on your website. The most popular feature of SEMRush is the Domain Vs Domain analysis, which allows you to compare your website to your competitors. You are able to compare keywords and domains if you are looking for analytics reports to help you better understand your website's search data, traffic, or even your competitors.
KWFinder:
KWFinder is a keyword research tool that helps you to identify the best long tail keywords to target – those that hit the sweet spot of high search volume and low competition. The experts use this SEO tool to find the best keyword and run analysis reports on backlinks and search engine result pages. Their rank tracker tool helps you to easily determine your ranking by tracking your improvement based on one key metric. You also get a ton of new keyword ideas to help you rank your website even higher. KWFinder is not free, however, you can sign up for a 10-day free trial, limited to 5 lookups per 24 hours and 25 related and 10 competitor keywords per lookup.
Moz Pro:
Moz Pro campaign helps you gather data on your ranking sites, page optimization, site crawl, and link metrics to help you implement your own SEO strategies. With this, you can find errors on your website that could affect your visitors' experience. Some specialists always raved about how Moz always remains up to date despite Google's regular algorithm changes while others praised Moz's chat portal that allows them always to get an insightful response to every question asked. Whether you are looking for keyword recommendations or a site crawl, Moz is a full-service powerhouse. Here, you can get great insights into the performance of your website and how to improve it. They also have a free MozBar toolbar from where you can see your website's metrics while browsing any page.
Ubersuggest
Ubersuggest is a powerful SEO tool and a free chrome extension that shows you keywords monthly search volume, CPC, and competition data. It is developed by Neil Patel and is a free keyword finder tool that helps you identify keywords and also the search intent behind them by showing the top-ranking search engine result pages. Here, you can find the right terms to use on your website from short to long-tail phrases, with hundreds of suggestions from this free great keyword tool. This tool helps you to determine if a keyword is worth targeting and how competitive it is. It is great for both organic SEO and paid pay-per-click (PPC).
Answer the public
Answer the public is a free SEO tool that allows you to easily find topics to write about for your blog. It visualizes search questions and suggested auto-complete searches in an image called a search cloud. Categories include 5 Ws, plus 'how', 'can', 'are', 'which', and 'will'. This tool can be used to create content around keywords like fitness, yoga, running, Crossfit, and exercise, and cover the entire spectrum. For instance, if you hire a freelancer to create content for you, all you need to do is download this list and send it over to them. It would only take you 5 minutes, making it one of the most efficient ways to come up with SEO topics for new websites.
SpyFu
SpyFu is the SEO tool, which exposes the search marketing secret formula of your most successful competitors. If you search any domain, you will see every place they've shown up on Google: every keyword they've bought on Google Ads, every organic rank, and every variation in the last 16 years. It has an amazing premium version. If you are just starting out, you can easily grow into paid features as you start succeeding. You can also easily view the number of times a keyword gets searched each month while determining the ranking difficulty for that keyword. You can also search your competitor's, or your own, website to easily see which keyword they use, how many organic keywords they have, how many monthly clicks they get, who their paid and organic keywords are the campaigns they are running with Google Ads, and many more. 
Woorank
Woorank is a super fast and super easy-to-use SEO audit tool. It offers both free and paid options to track and report your marketing data. Here, you can plug in your competitors to discover which keywords they are targeting, and then you can overlap with theirs. Try to understand about how keywords perform over time to optimize for users and search engines in the best way possible. And also the most important thing is that you understand the things your website lacks from both a technical and content perspective. It helps you to identify duplicate content, downtime, and security issues and provides guidelines on how to fix them.
Majestic
Majestic is an SEO software tool that specializes in link analysis. It is all about backlinks and it's 100% focused on backlinks. It is one of the best marketing tools. It has many useful features like The Majestic Million which lets you see the ranking of the top million websites. In this, the Site Explorer feature allows you to easily see a general overview of your site and the number of backlinks you have. It finds the best keywords to target while having features geared to site comparisons and tracking your rank.
Google Trends:
Google Trends gives you information regarding a keyword and offer great insight into trends around the topic, which can be invaluable at any stage of a business's growth. You can search for keywords in any country and receive information around it like top queries, rising queries, interest over time, and geographical locations depending on interest. This is one of the best SEO tools to use. You can start using Google Trends by entering a keyword into the search bar or by choosing one of the provided examples. You can scroll down to see general information about current trends in your country.
SEOQuake
SEOQuake is a free plug-in for your browser that provides you with organic search data at the click of a button. It provides parameters about the listings on a search engine result page. It acts as an SEO checker tool that performs on-page site audits, assesses both your internal and external links, and also does website comparisons to determine how you perform against your competitors. It also has features that include SEO analysis tools include keyword analysis such as keyword density, an easy-to-read SEO dashboard, and an export feature that allows you to easily download and send data to the people on your team.